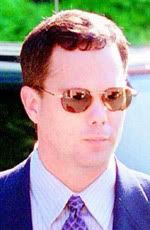 "The charred remains of Bryan Charles Kocis were identified by Pennsylvania authorities earlier today and a formal murder investigation has begun. An autopsy revealed that he was stabbed to death. They believe that his house was intentionally set on fire to cover up the murder and his remains had to be identified by dental records, several PA newspapers are reporting.
"No formal suspects have been named, but Citizen's Voice is reporting that police have questioned three California men he was involved in a "business dispute" with, one of which presumably is Sean Lockhart.
"Kocis, 44, was best known for his complicated ongoing legal battle with Lockhart, better known as gay porn star Brent Corrigan, 21. Jason Curious is reporting that the two were seen hugging at Krave in Las Vegas earlier this month and that they had finally reached a settlement to their legal dispute that would have involved them working together again.
"Kocis, a convicted child molester, was the owner of Cobra Video, a popular bareback twink studio; he directed and produced all their films. Cobra and Kocis were thrust in the spotlight in 2005 when Lockhart/Corrigan announced that he was underage when he filmed Every Poolboy's Dream a year earlier. When I interviewed him, Lockhart told me Kocis gave him a car for filming Poolboy, and speculated that Kocis has made well over $1 million from it.
"Copies of the movie were promptly pulled off shelves after Lockhart's disclosure. Lockhart later alleged that he was romantically involved with Kocis at the time of the filming and that Kocis was well aware that he was underage. Kocis claimed claimed to have proof on file showing Lockhart was legal at time the time of shooting.
"Kocis responded by suing Lockhart for trademark violation for use of the name "Brent Corrigan", contract violation and a few other charges, much to the chagrin of Lockhart who often railed against Kocis and Cobra on his blog and to the press, and even held a web cam fundraiser to pay for his mounting legal fees. To avoid a legal entanglement with Kocis, Falcon Studios called Lockhart "Fox Ryder" in Velvet Mafia. Cobra continued to release movies featuring Lockhart as recently as August 2006, when they released Take It Like A Bitch Boy and Fuck, Me Raw, which featured Corrigan on the cover with a drop of cum poorly photoshopped to appear if it was dripping out of his ass.
"Although Kocis never faced child pornography charges for producing Every Poolboy's Dream, he was charged with it in 2002, when police found a videotape of Kocis having sex with a 15 year old boy. He pled guilty to sexual abuse of a child and was sentenced to one year probation."
[SOURCE: Gay Porn Blog]
share on:
facebook