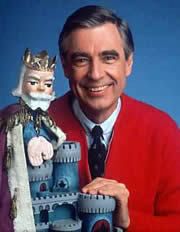 I don't really have anything to say here, it's just that the last time it was Friday the 13th I missed putting up this photo of Mr. Rogers with King Friday XIII.
This show always reminds me of my grandparents' house. When I was age appropriate to watch it we didn't have cable, but they did. Whenever I was over there I got to watch this plus
The Electric Company
, which was always a solid hour.
share on:
facebook