Aside from having one of the best names in history - a name so sexy not even an unaccented voice like mine can wreck it, so you can imagine how hot it would sound whispered in your ear by a Hispanic gigolo - Porfirio Rubirosa had a highly publicized reputation as a lothario; in his hey-day, which likely began in his early teens and continued until his death, Rubirosa bedded some of the most famous and beautiful women in the world, many of whom were both.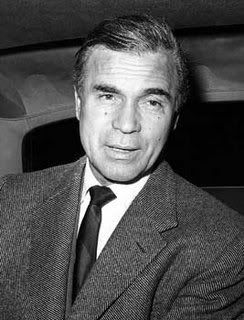 Born in January 1909 in the Dominican Republic, Rubirosa's climb began when he climbed into the bed of Flor de Oro Trujillo, daughter of Dominican strongman
Rafael Trujillo
, in 1934; although soon divorced (on account of Rubirosa's numerous infidelities), he remained in the service of his country and his ex-father-in-law as 'Ambassador plenipotentiary' until Trujillo's assassination in May 1961.
What we all really want to know about though, is his cock. Within his lifetime, pepper grinders the world over were nicknamed 'rubirosas' in his honour by his jet-set buddies. No less a penis expert than Truman Capote described it thusly: 'an 11-inch
cafe au lait
sinker as thick as a man's wrist', which makes my mouth water just thinking about it. Length and girth - a deadly combination...
As to its victims, they included
Dolores Del Rio
,
Marilyn Monroe
,
Ava Gardner
,
Rita Hayworth
,
Soraya Esfandiary
,
Veronica Lake
,
Kim Novak
,
Eva Peron
,
Doris Duke
,
Zsa Zsa Gabor
,
Barbara Hutton
, and
Danielle Darrieux
among many hundreds of others; while in most cases these relationships ended badly, while they were going they went exceptionally well, since he was reportedly an expert swordsman as well, which well-endowed men often aren't*.
The death of a truly exceptional cock is always a tragic one; the end came for Rubirosa's when he crashed his Ferrari near Paris'
Bois de Boulogne
on this day in 1965. Clearly, he'd been reaching for the gear shift and missed - an honest mistake - and realized his error too late, by which time all the blood had rushed out of his brain.
Thanks to gossipy women and the gay dudes who love them, however, the name Porfirio Rubirosa will continue to resonate forever as one of the greatest lovers in the history of sex.
*Because they don't need to be!
*
share on:
facebook