It was under the rule of Honoré II that the Lords of Monaco became Princes, which titular distinction they still hold today; other than that, an eerie resemblance to Ron Jeremy and a brief biographical outline are about all that we know about the first royal Grimaldi. Yet within those few details of a life is enough excitement for several Hollywood films - or else one European one...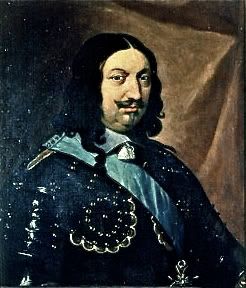 Born on Christmas Eve 1597 to
Hercule, Lord of Monaco
, and Maria Landi, Honoré's father was murdered when the boy was just six, at which time he ascended to the throne of Monaco under the stewardship of his uncle Frederico Landi, prince of Val di Taro; his uncle's loyalty to the Spanish meant that Monaco would be occupied by Spanish troops, which occupation would endure until 1614.
Monaco's traditional allegiance with France was later upheld by Honoré II, who sought the support and protection of
Louis XIII
, resulting in the
Treaty of Péronne
in 1641; as a result of this, Honoré lost his Spanish titles, for which he was compensated with the title
Duke of Valentinois
, a title still borne by the Princes of Monaco today.
In February 1616 Honore married Ippolita Trivulzio, which marriage resulted in the births of at least four children:
Louis
, Maria Ippolita, Giovanna Maria, and Teresa Maria. Honoré II died on this day in 1662, at which time he was succeeded by his son, who became Louis I.
*
share on:
facebook