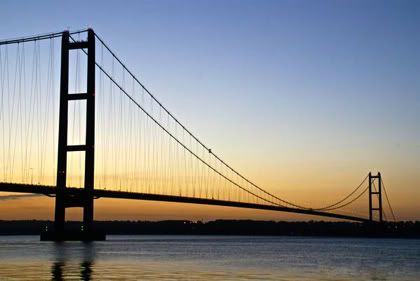 [As is usually the case with great works of infrastructure, the story of the building of the Humber Bridge is nearly as epic as the span itself... While plans for the structure were first drawn up in the 1930s - and then revised in 1955 - it wasn't approved until 1959 with the passage of the Humber Bridge Act (which had been promoted by the Kingston Upon Hull Corporation). It was the 1966 Hull North by-election, though, which finally cleared the way for the actual building to begin; the seat - vacated by the death of Labour MP Henry Solomons - was held by the government of Harold Wilson largely due to the promise of its eventual construction. Having retained the seat, Wilson then prevailed upon his Minister of Transport Barbara Castle to secure the funding. That took until July 1972, when work finally began; then, of course, there were the usual plethora of tea breaks... It took so long to build the bridge, in fact, that Christopher Rowe had time to write a song about it, which he fittingly entitled The Humber Bridge.]
1314
- The
Battle of Bannockburn
concluded the
First War of Scottish Independence
with a decisive victory by
Robert the Bruce
's Scottish forces; Scotland regained its independence in the aftermath of this battle, though the victory owed more to the ineptitude of
Edward II
than to the prowess of the Scottish King, who'd previously been soundly defeated by
Edward I
on a number of occasions.
1340
- At the outset of the
Hundred Years' War
most of the French fleet was destroyed by the English - commanded in person by King
Edward III
- at the
Battle of Sluys
, during which the French Admiral
Hugues Quiéret
was also slain.
1497
- Cornish traitors
Michael An Gof
and
Thomas Flamank
were executed at
Tyburn
in London for their part in that year's
Cornish Rebellion
against the rule of King
Henry VII
.
1509
-
Henry VIII
and
Catherine of Aragon
were crowned King and Queen of England in a lavish double ceremony at
Westminster Abbey
.
1717
-
The Grand Lodge of England
- the first Grand Lodge (now the United Grand Lodge of England) in the tradition of
Freemasonry
- was founded at the Goose and Gridiron Ale House, in London's St Paul's Churchyard;
Anthony Sayer
was elected to serve as the first Grand Master.
1902
- King
Edward VII
developed appendicitis, two days before his coronation; Sir
Frederick Treves
(with the assistance of
Joseph Lister, 1st Baron Lister
) performed a then-new life-saving operation, and the coronation went ahead a little more than six weeks later, making all those coronation souvenirs with the old date on them highly collectible.
1981
- The
Humber Bridge
- connecting Hessle in Yorkshire and Barton-upon-Humber in Lincolnshire over the Humber estuary near Kingston upon Hull - was opened to vehicle traffic, although it wouldn't be officially opened by
HM The Queen
until July 17th; upon its opening it would be the world's longest single-span suspension bridge for 17 years, until it was bested the
Great Belt Bridge
in Denmark. Currently the world's fifth-largest such bridge, it serves 120,000 vehicles weekly, who pay up to £2.70 in tolls each way.
*
share on:
facebook