Maybe you know that sick feeling when a book you're enjoying suddenly goes over your head. Then again, maybe you don't.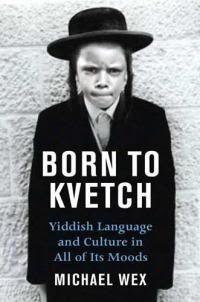 I do, and this is its cover.
Now, when it comes to linguistics, I'm not exactly cunning... Despite recognising most of the words in
Born To Kvetch
I'll be damned if I can figure out why the author has chosen such complicated patterns to put them in. I probably would have given up on it by now, but I'm really interested in the subject. Besides which, the parts I can understand are really good.
Alas, the further into it I read, the farther apart those bits I can understand are getting.
It's good to get your brain out of its familiar rut from time to time; if you're me, you enjoy making your brain the consistency of pizza dough on a regular basis.
I may have met my match here.
share on:
facebook