Democratic hopeful
Barack Obama
(shown here demonstrating exactly where he has
Hillary Clinton
) swept to victory in the
Iowa caucus
today; he was joined in victory by Republican candidate
Mike Huckabee
in the first of the state primaries. The candidates are next headed to New Hampshire.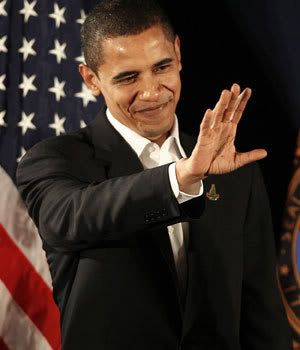 It's still too early to tell, of course; will this surprise win build Obama's already formidable momentum, or will it just make Clinton's camp scrappier? While the junior Senator from New York came a shocking (if narrow) third,
John Edwards
was the Democrats' second place finisher, and two candidates - Senator
Joe Biden
and
Christopher Dodd
- dropped out. Among Republicans,
Mitt Romney
was a full nine points behind Huckabee, and both of them are facing a sudden surge by
Ron Paul
.
Only one thing is certain following today's events; the most important election in American history is far from decided.
Until it is, though, the
Pop Culture Institute
will be following these events as closely as my magpie mind will allow, making snarky, ill-informed commentary accordingly.
share on:
facebook