Sara Jane Olson
, formerly a member of the
Symbionese Liberation Army
(SLA) - famed for its
February 1974
kidnap and brainwash of newspaper heiress
Patty Hearst
- was mistakenly released from the Central California Women's Correctional Centre in
Chowchilla
one year early on March 17. She has since been apprehended without incident and returned to jail.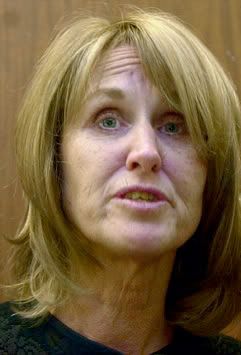 Although initially indicted along with other SLA members in February 1976, Olson (born Kathleen Soliah) went on the lam for 23 years, until she was captured in June 1999 following a profile of her on the television program
America's Most Wanted
which had aired the previous month.
According to Hearst, Olson was guilty of kicking a pregnant bank teller in the stomach (resulting in miscarriage) during the SLA's most famous robbery, of the
Crocker National Bank
, in April 1975 (at which Hearst served as the getaway driver); Olson was also implicit in the murder of
Myrna Opsahl
in the same heist, plus the attempted bombing of the LAPD in August 1975.
Following her recapture, Olson agreed to a plea bargain, copping to the explosives charges while the murder and attempted murder charges were dropped.
share on:
facebook