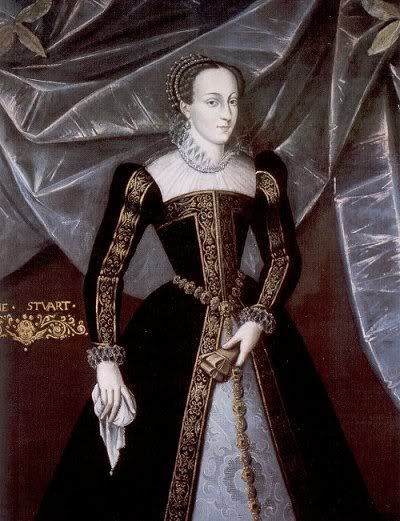 [
Mary Stuart, erstwhile Queen of Scots,
in a stunning portrait from 1565... Alas, she was a better subject for an oil painting than a Queen, and her abdication (on this day in 1567) was actually something of a relief.
]
1132
- The
Battle of Nocera
pitted
Ranulf II of Alife
against Sicily's King
Roger II
.
1148
- France's
Louis VII
laid
siege to Damascus
during the
Second Crusade
.
1411
- The
Battle of Harlaw
- one of the bloodiest battles in Scottish history, pitting the
Lowlanders
of
Alexander Stewart, Earl of Mar
, against the
Highlanders
of
Donald of Islay, Lord of the Isles
, - took place, resulting in a tactical draw but a strategic victory for the Earl of Mar.
1567
- While imprisoned at
Loch Leven Castle
- recovering from her rape by
Bothwell
and the miscarriage of their twins -
Mary, Queen of Scots
, was forced to abdicate in favour of her 13-month-old son
James VI
(who would later become better known as James I of England).
1715
- A Spanish treasure fleet of 10 ships under Admiral Ubilla left Havana for Spain; seven days later, 9 of them sank in a storm off the coast of Florida. It took a few centuries, but
treasure was salvaged
from these wrecks eventually.
1823
- Slavery was abolished in
Chile
.
1847
- After 17 months of travel,
Brigham Young
led 148 Mormon pioneers into
Salt Lake Valley
, resulting in the establishment of
Salt Lake City
; these events are being celebrated in Utah today with the
Pioneer Day
state holiday and the
Days of '47 Parade
.
1901
- Author
O. Henry
was released from prison in Austin (early, for good behaviour) having served three years for embezzling from the bank where he worked.
1911
-
Hiram Bingham III
rediscovered the ruins of
Macchu Picchu
, the fabled 'lost city of the
Incas
'.
1915
- The passenger ship
S.S.
Eastland
rolled over and capsized while docked in the
Chicago River
, with the loss of 845 lives.
1923
- The
Treaty of Lausanne
, settling the boundaries of modern Turkey, was signed in Switzerland by Greece, Bulgaria and other countries that fought in World War I.
1937
- The State of Alabama dropped rape charges against the
Scottsboro Nine
, who'd been arrested in
March 1931
.
1967
- During a state visit to Canada for
Expo 67
, French President
Charles deGaulle
offered aid and comfort to Quebec separatists by shouting
Vive Quebec Libre
during a speech in Montreal, outraging his hosts and much of English Canada in the process.
1969
-
Apollo 11
splashed down safely in the Pacific Ocean, having returned to the Earth from the Moon.
1972
- The Croatian paramilitary
Bugojno group
- which had been organized by the
Croatian Revolutionary Brotherhood
- was captured by Yugoslav security forces.
1983
-
George Brett
, while batting for the
Kansas City Royals
against the
New York Yankees
, hit a game-winning home run which was later nullified by the
Pine Tar Incident
.
2001
-
Simeon Saxe-Coburg-Gotha
, deposed as
Tsar of Bulgaria
in 1946 (when he was just 9 years old), was sworn in as Prime Minister of that nation, the first former Head of State in history to later become Head of Government.
2002
- Democrat
James Traficant
was expelled from the US House of Representatives on a vote of 420 to 1.
2005
-
Lance Armstrong
won a record-breaking seventh consecutive
Tour de France
; following his victory, Armstrong retired from professional cycling to focus on finding a cure for cancer*.
*In addition to humping and dumping
Sheryl Crow
and furthering the cult of his own personality with those Live Strong bracelets.
*
share on:
facebook