Farrah Fawcett - the vivacious blonde who embodied Southern California beauty for millions of television viewers in the 1970s, before moving on to more serious work in the 1980s - died on this day in 2009 at Saint John's Medical Center in Santa Monica. She was 62.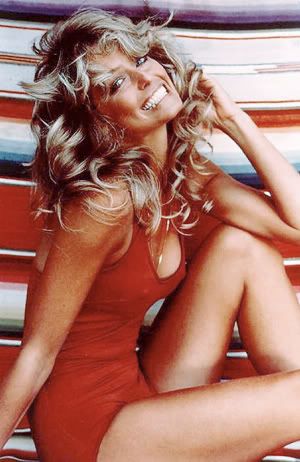 Farrah* was already a famous face - thanks to the iconic poster you see at left** - when she was signed to the series that would make her a household name. Although she only appeared regularly as
Jill Munroe
in the first season of
Charlie's Angels
she'd made such an indelible mark in such a short time that even after being replaced by
Cheryl Ladd
producers
Aaron Spelling
and
Leonard Goldberg
couldn't divest themselves of her magic entirely; they made Ladd's character,
Kris
, Jill's sister. Following her departure, Farrah made six highly rated guest appearances in seasons three and four as part of her contract settlement.
A series of critical flops followed, so she did the most audacious thing possible... She went to New York, where she appeared Off Broadway in the play
Extremities
, written by
William Mastrosimone
, following
Susan Sarandon
into the role of a would-be rape victim who turns the tables on her attacker. This kind of thing is almost
de rigeur
today when resuscitating a flagging career, but at the time had been seldom tried - and I dare say never by a 'mere' TV star.
Farrah then turned in an Emmy Award nominated performance in the TV movie
The Burning Bed
, and followed that with a television version of
Extremities; s
he would also portray Nazi hunter
Beate Klarsfeld
,
Life Magazine
photojournalist
Margaret Bourke-White
,
Woolworth
heiress
Barbara Hutton
in
Poor Little Rich Girl: The Barbara Hutton Story
, and convicted murderer
Diane Downs
in the miniseries
Small Sacrifices
.
Having always turned down the chance to pose nude in her 20s and 30s, at the ages of 48 and 50 Farrah appeared in
Playboy
, the former pictorial being responsible for the magazine's best-selling issue of the 1990s; not even a goofy, rambling appearance on
The Late Show with David Letterman
in June 1997 did much to diminish her appeal amongst her real fans - at least judging by the supportive crowd reaction! - who giggled along with her as she repeatedly stymied the curmudgeonly Letterman.
On a personal note, it's been interesting to me to observe how much fan attention she's been getting - especially during the last year of her life - from gay men. For someone supposedly all about sex appeal, what appeal could she have had apart from sex***? The secret, I think, is in how she triumphed over the attitudes that had once sought to belittle her; she was fearless, clearly - a quality much on display throughout her final illness, during which she confronted her considerable travails and fought back with everything at her disposal. In both
Chasing Farrah
and on
Farrah's Story
she did what she had always done - raised awareness of an important issue which was too little talked about - almost to her dying breath.
If I may be so bold as to paraphrase Charles Townsend at the close of each of those silly, golden episodes: Goodbye Angel...
*I simply cannot stand on formality and call one of the foremost icons of my childhood anything else right now.
**Which sold as many as 12 million copies, earning her more in royalties than her salary from Charlie's Angels!
***Aside from great hair, that is.
*
share on:
facebook