It was on this day in 2006 my grandfather died, dwindling the family of five I once had to a remaining two members: my mother and I*. I must confess, my thoughts on that day were entirely selfish;
what will become of me when my family is just me?
Fortunately, I have indelible memories of the family we had, one that he was so integral in creating, that even when I am alone in this world, it will feel like the five of us are together still.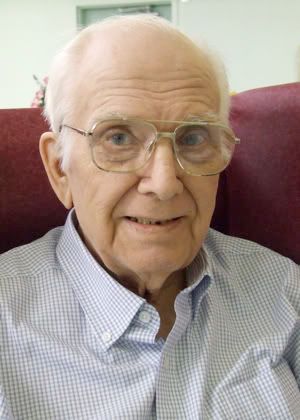 Born in September 1921, Oscar Arthur Strandquist grew up in
Kinistino, Saskatchewan
, a small town east of
Saskatoon
where his father, Nils, served as
Reeve
. Art, as he preferred to be called, would probably have become a Lutheran minister if World War II hadn't summoned him away.
Art served most of his tour of duty in
Aldershot
, where a fateful filing cabinet drawer - obviously working in collusion with the Nazis - fell on his foot; it would be the extent of his injuries during that terrible conflict, but, seeing as it occurred in the line of duty, it was enough to qualify him for lifetime care by a grateful nation. During the war he was married to my grandmother Dorothy and five years later, in March 1948, my mother was born.
In the Fifties the three were posted in what was then
West Germany
, and later lived at
Camp Borden
, as well as in Winnipeg, following which Art got out of the service, though he continued to work for the military in a civilian capacity. He eventually signed up again; having originally joined up as a private, when he finally retired for good in 1968 he had obtained the rank of major. His work was principally in the orderly room, but later he served with the
Royal Canadian Army Medical Corps
, training military doctors in the art of administration, one of whom became Canada's first female
Surgeon-General
.
Retiring to
Kelowna
in 1972, Art threw himself into the civic life of the town as over the next twenty years it burgeoned into a city; he was active in the
Freemasons
, the
Provincial Emergency Program
, and was a
shortwave
and
ham radio
operator, volunteering at a variety of marathons and other community events providing communications. Active in the
Okanagan Historical Society
(and an historian himself, the author of two books) he was also the founder or co-founder of local branches of societies in aid of people with diabetes and the hard-of-hearing. He was for a time involved with the
Reform Party
, but quit in disgust over the homophobia of their 'family values' platform, which to his mind was impossible to reconcile.
By the time of my grandmother's death in April 1997, Art had pretty much withdrawn from his community service, and over the final decade of his life retreated even further, into himself, which I always saw as the great tragedy of his life; for someone who was once so engaged in the world and with other people, to suddenly find him sitting and staring at the wall bothered me no end. The doctors said he had
premature dementia
, but I knew otherwise; he simply gave and gave of himself until there was nothing left to give.
The above photo was taken at his last birthday, just three months before he died; due to all the visitors he'd received he wasn't really himself that weekend, but I was glad I went to Kelowna to see him for what would be the last time anyway. The last day of my visit - as my mother, her boyfriend, and I stopped off so I could say goodbye - I noticed he was quite a bit brighter, and asked if I could take his picture. He smiled like the parting of clouds, and for thirty seconds he was his old self again. I managed to take this portrait, the last one ever taken, before he clouded over again. I told him that I loved him, but he made no sign that he understood me; it was the last time I saw him...
Though he never lived to see it, the
Pop Culture Institute
is as much his as it is mine. As a child he was always after me to understand the past as a means to understanding the future; his indulgence of me knew no bounds, especially when it came to buying books, and to this day the core of the collection at PCI is due to his largesse.
Although I was supposed to give his eulogy, I was too overcome with grief; this is the only time I've written about him, and I only hope that in some way it makes up for my earlier failing.
*Thanks to the recent inclusion of Mr Eaton and all his ilk, my poor little family has grown once again!

*
share on:
facebook