It was a voice by turns husky, smoky, and sultry; now it's owner, comedienne Suzanne Pleshette, is gone. Pleshette died Saturday of respiratory failure at the age of 70.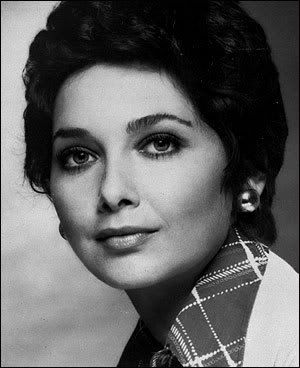 Born in January 1937, Pleshette attended Manhattan's
High School of Performing Arts
before going on to
Syracuse University
in upstate New York. The raven-haired beauty appeared in numerous movies in the late 1950s and throughout the 1960s, including
Alfred Hitchcock
's 1963
classic
The Birds
.
Pleshette's longtime marriage to Tommy Gallagher (1968-2000) was bookended by two shorter ones: her first - to fellow actor
Troy Donahue
- ended badly in 1964 after just eight months, and her third (to former costar
Tom Poston
) was a happy one cut short after six years by his death in
April 2007
.
Among her noted roles on television were six seasons (1972-8) on
The Bob Newhart Show
(for which she reprised her role in the famous final episode of his other sitcom,
Newhart
, in May 1990), and a TV movie based on the life of
Leona Helmsley
entitled
The Queen of Mean
(1990), which must have been a great training ground for her final role as
Karen Walker's mother on
Will & Grace
.
share on:
facebook