Well, the Internet Photo Gods have forced me to play dirty... In failing - yet again! - to provide me with a picture for this post I was forced to subvert their considerable will and derive my own*; such is my zeal for royal stories that only my own poverty prevented me from getting on a plane and buggering off to
Liechtenstein
to get a proper one**...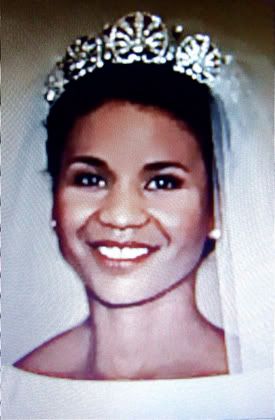 Not that I would have necessarily been able to get one even then; despite what could be an enormous global profile, the wife of Liechtenstein's
Prince Maximilian
- they were married in both
Vaduz
and at Manhattan's
Church of St. Vincent Ferrer
in January 2000, and have one son, Prince Alfons, born in May 2001 - maintains the discreet semi-anonymity of the true socialite. While such decorum is the norm in almost every royal house in the world, if ever there was a non-Windsor capable of a Windsor-style (not to mention Windsor-sized) splash it's Princess Angela.
The world's only Blatino Princess (despite what you might hear to the contrary from the
bodegas
of East LA to voguing competitions across Harlem) the Panamanian Angela Brown - who parlayed a degree from New York City's
Parsons School of Design
(as well as one of that institution's Oscar de la Renta Gold Thimble Awards) into a title with the
Princely Family of Liechtenstein
- is a woman with clear celebrity potential. Think of the
Rania
-like charitable appeals such a woman could launch, the enormous positive impact she could have in a post-Obama world, the enormous good it could do for Liechtenstein, the
Diana
-esque sensation she could make...
If you cannot, Your Serene Highness, I certainly can***. Call me...
*It's happened only one other time, February 29th 2008, on the
birthday
of
James Ogilvy
- but if I keep having trouble finding pictures I may have to begin resorting to this extreme measure more frequently.
**Now that I think of it, I could have contacted the Swiss Consulate in Vancouver...
**Also, I work cheap. I mean fifty grand a year and expenses cheap - especially with a job title like 'Blogger-Royal' and a grace-and-favour apartment at Schloss Vaduz. Plus I'm enormously deferential and a major-league brown-noser - in other words, the ideal courtier!


*



share on:
facebook