The influence exerted by John Steinbeck over my writing cannot be measured... To be completely honest, it cannot be detected in any way, but it's still there! Whereas Steinbeck's writing is vivid and lucid, though, mine has been characterized as 'giddy and shallow'*. Still, his easy facility with adjectives and his compassion for those of his characters whose lives haven't worked out as planned had a major impact on me at the time I was first considering a life in letters. So while I know I'll never be his equal I'm still proud to call myself his acolyte.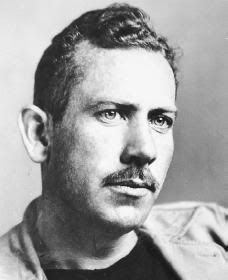 Born on this day in 1902 in California's
Salinas Valley
, the landscape made its impact on him early; again and again he extolled the region's beauty (as well as the hardships encountered by its residents) in such works as 1922's
The Pastures of Heaven
, perennial middle-school reading list stalwart
The Red Pony
,
Tortilla Flat
,
Cannery Row
and its sequel
Sweet Thursday
,
East of Eden
and
Of Mice and Men
.
So vivid was his handling of imagery, so sensitive his approach to character, that many of Steinbeck's works were made into films - including
The Moon is Down
and
The Pearl
- even as they were being written. Yet he only wrote one work directly for the screen, which happens to be
Alfred Hitchcock
's legendary
Lifeboat
, starring
Tallulah Bankhead
,
Hume Cronyn
, and
John Hodiak
. Steinbeck later asked that his name be removed from the film, though, believing it to have racist undertones. Another,
The Wayward Bus
, proved to be the highlight of
Jayne Mansfield
's attempts at acting.
Long pestered by the FBI for his left-wing sympathies, John Steinbeck was awarded the Nobel Prize for Literature in 1962; he died of a heart attack in December 1968, and has been accorded many of the honours which normally accrue to one of his popularity and genius, including plaques and statues galore, as well as enduring readership.
*I stand by my original assessment. ~ Chumley


*



share on:
facebook