She was, of course, unforgettable as Helen Roper, the over-sexed middle-aged landlady on
Three's Company
, which was itself a remake of the UK sitcom
Man About The House
. So memorable was Audra Lindley's chemistry with
Norman Fell
, in fact, that their characters were spun-off into another show
The Ropers
- which was itself a remake of UK sitcom
George and Mildred
, and which had itself been spun-off from
Man About The House
. Got all that?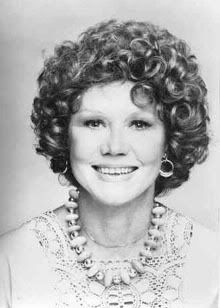 The Ropers
was also notable for costarring
Jeffrey Tambor
; despite the abundance of comedic talent, the show lasted just 28 episodes. Following the cancellation of
The Ropers
in 1979 Lindley had a memorable turn in the
1985 film
Desert Hearts
, and finally played
Phoebe
's grandmother on
Friends
.
What I didn't know was that she was also in
Bridget Loves Bernie
, an obscure bit of TV from the 1972-3 season that gave
Meredith Baxter Birney
her first break, or that she'd appeared on
Another World
, playing Liz Matthews for six years from early on (1964-69).
To me, though, she'll always be Mrs. Roper. Though she was clearly in the show initially for comic relief, she rapidly became its heart and soul, exuding warmth and humour as she connived with Jack, Janet, and Chrissy, to put one over on Mr. Roper in episode after episode.
Born on this day in 1913, when Audra Lindley died of leukemia in October 1997 she was still working, appearing on
Cybill
. She was survived by her husband, actor
James Whitmore
, and five children by her first marriage to Dr. Hardy Ulm, to whom she was married from 1943-60.
*
share on:
facebook