One of Fredericton's favourite sons, Willie O'Ree, has been named to the
Order of Canada
today, affording him at long last just one of the plum accolades he so richly deserves; O'Ree is known as 'the Jackie Robinson of hockey' for being the first black player in the game*, which he became when he took to the ice for the
Boston Bruins
against the
Montreal Canadiens
in January 1958.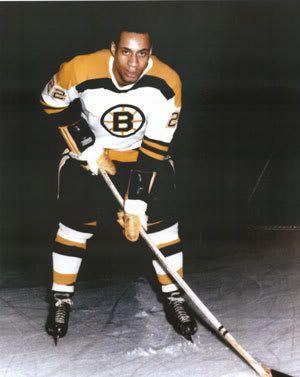 Once there he encountered some hateful speech, although he later admitted the problem was much worse in the US than Canada**; many of those fans - the sort of enlightened intellectuals who were unable to grasp the concept of a black man born in Canada - would yell at him to go back to the South - of New Brunswick, obviously. O'Ree's reaction was philosophical: 'It didn't bother me,' he is reported as saying. 'I just wanted to be a hockey player, and if they couldn't accept that fact, that was their problem, not mine.' Now that's what I call class...
O'Ree scored 4 goals and had 10 assists in his NHL career, which reached its pinnacle with the 43 games he played in 1961; at that point he returned to the minor leagues, where he played with the
Los Angeles Blades
and
San Diego Gulls
of the
Western Hockey League
. He retired in 1971, and there wasn't another black player until fellow Canadian
Mike Marson
was drafted by the
Washington Capitals
in 1974; O'Ree blazed a trail, though, which has since been taken by such players as Canadians
Jarome Iginla
and
Anson Carter
and American
Mike Grier
.
The Gulls later retired his number, and hung his jersey from the rafters of the
San Diego Sports Arena
; given the tenor of the times, we should all be grateful he wasn't in it at the time. O'Ree was inducted into the
New Brunswick Sports Hall of Fame
in 1984, and since 1998 has worked for the NHL's Diversity Task Force, which aims to bring more minorities into the sport.
*
Although Art Dorrington was the first black player to sign a pro contract, in 1950, he never left the minors.

**Surely he's only being diplomatic here; Canadian bigots are just as good as American ones, there's just fewer of them per capita so it seems like there's less of them.

share on:
facebook