Which I guess means he'll be wearing one of these, probably on that damn baseball cap he won't take off.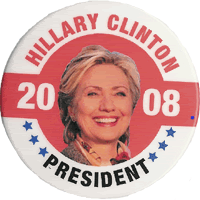 Hollywood has long been Clinton country, since the Clintons themselves have considerable star power, not to mention the ability to backstab, obfuscate, and commit adultery. It's like the Clintons are speaking Hollywood's language!
Though the elections are still 17 months away, there's still plenty of time before the New Hampshire primary in January for a certain dark horse candidate to enter the ring. Of course, the
truth
is, that could be quite
inconvenient
for Mrs. Clinton.
Being Canadian (not to mention despising politics) the Pop Culture Institute will probably not be endorsing any candidate. (Obama) I mean, it wouldn't be fair (Obama), and let's face it, what do I know about anything? (Obama) I suppose I could try something subliminal (Obama), but my readers are so smart (Obama) they'd catch on right away. (Obama)
As Newt Gingrich probably said to Ralph Reed: Hilary is the one to beat. I certainly hope they were talking about the election.
[
S O U R C E
]
share on:
facebook