The principal irony of the late
Jean-Daniel Cadinot
's life - as he was so fond of mentioning - was that while his parents made their living clothing men (from their tailor shop in the
Batignolles
Quarter of
Montmartre
) he'd made his even more profitable one from unclothing them...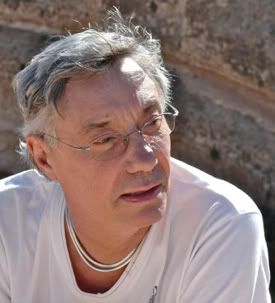 Born in German-occupied Paris on this day in 1944, Cadinot ran away from home at 17; garnering an education at the
École des Arts et Métiers
, he initially intended to earn a living as a photographer. A nude portrait he took of writer
Yves Navarre
and singer
Patrick Juvet
led not only to a new direction for his art but indeed to a lucrative and prolific career as a photographer of the male figure; a collection of his erotic photos were published in the first edition of
Gai Pied
in April 1979, by which time he'd published 17 albums of his work as well as begun directing all-male erotica on 16mm.
Not only did Cadinot's films put an emphasis on the visual element - as befitted an accomplished photographer - they also featured better plots and had a whimsical approach to male sexuality absent from their American counterparts. In fact, the plots were often taken from Cadinot's own life, and featured youthful, amateur models frequently engaging in inter-racial adventures.
By 1998 Cadinot had directed 54 such films, occasionally under the name Tony Dark; these include
Scouts
(1981),
Deuxième Sous-sol
(1987), and
Sortie de Secours
(1998). He died in April 2008 following a heart attack.
*
share on:
facebook