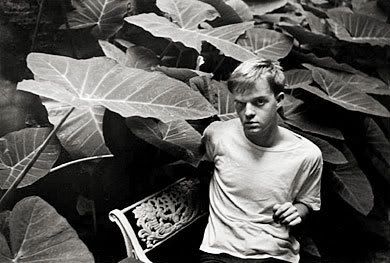 How to put all the pieces of Truman Capote together so they fit...
That the beautiful brazen youth who started writing three hours a day when he was 11 could be so knowing in his early works is a testament to his precocity; that the adult Capote could be so comfortable in his sexuality at a time when most of his fellows still conducted their lives in shadow makes him a kind of paragon for those of us who are openly ourselves today.
But for all that he's a paragon, surely he's also a cautionary tale; as booze and drugs took his beauty, bitterness crept in, leaving behind a brittle, bitchy parody...
Oh well, at least his talent went last, leaving in it's wake a dozen masterworks of fiction and reportage, including a sublime fairy-tale of New York City in
Breakfast at Tiffany's
, and
In Cold Blood
, which represents no less than an entirely new genre (now rather dully called creative nonfiction) which is so omnipresent these days I may be doing it now without even knowing it.
Born on this day in 1924, Truman Capote died in
August 1984
following a long battle with both alcoholism and an even greater monster: himself.
*
share on:
facebook