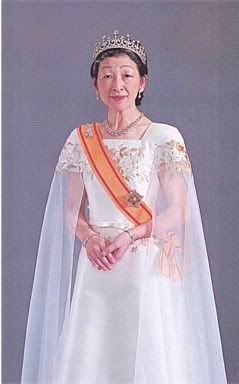 Empress Michiko was the first commoner to marry into Japan's Imperial Household.
Following her marriage, the then-Crown Princess was ruthlessly tormented by Empress Nagako, something which is largely unreported in Japan. When Michiko's own son took a bride, the Empress was reported to have said that she wouldn't be as hard on her new daughter-in-law as her mother-in-law had been on her.
Alas, Crown Princess Masako has not had such an easy time of it, even with her lofty ally. The "failure" to produce a male heir, culminating in last year's debate over whether or not little Aiko should one day be Empress-regnant, has meant that Masako is now rarely seen in public; it seems life in the fishbowl may have gotten to the Empress as well.
That, and a new book about Masako subtitled "Prisoner of the Chrysanthemum Throne", seem determined to make for a very unhappy Kokyo palace indeed.
[
S O U R C E
]
share on:
facebook