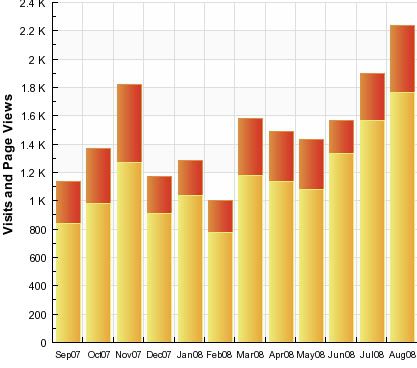 Due to some bizarre confluence of conditions, August has been the most productive and popular month in the history of this blog; whether one measures our growth since our inauguration (as the
Pandora Institute
, on January 26th, 2006), rebranding as the
Pop Culture Institute
on December 25th, 2006, or the date we hit our stride, August 5th, 2007*, in terms of hits and page views August 2008 was the shit. Only two months last year - September and October - saw more posts as well, and given how many I've been republishing, I suspect things are only going to get better between now and the end of the year. Provided, that is, I can stay off the sweet weed - which, with an incentive like this, won't be a problem.
As anyone who reads
USA Today
knows, bar graphs don't lie; the one above confirms that in the past 31 days the 180 posts I've put up (including this one, officially my 2,680th post) garnered 1,768 page hits and 2,241 page views. My current averages are: 64 page hits and 95 page views a day and rising (not including visits from the two computers from which I regularly post, natch!); while this translates into about twenty readers a day, those who do read appear to be coming back for more. Now, I'm no statistician, but that all seems pretty rockin'.
Well, that's enough blather; I've got a new record to break!
~ MSM
*Also known as The 1,000th Post.

*
share on:
facebook