For many years Kylie Minogue was as big a pop star in most of the English-speaking world - and a fair share of the rest of it as well - as Madonna, but because she wasn't an accepted presence in the United States, she was something of a secret amongst us Commonwealth cousins (although, to be quite fair, her fame in Canada was very much a gays-only affair); so while the monster success of a little ditty entitled
Can't Get You Out Of My Head
ruined the secret for all the rest of us, it finally brought her that one crucial market which had eluded her, and how could any of us begrudge her that? Especially after all she'd given us.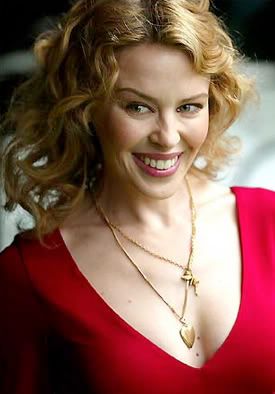 It was therefore quite a shock when it was announced in 2005 that she had breast cancer; as has so often happened, it looked like just as she was poised to take on the whole world, she would be taken from it.
Well, if good wishes were chemotherapy - and in a very real way they are - then it's no wonder she pulled through her health scare with flying colours. No doubt every homo from Sydney to St. Ives lit candles and got on their knees in a way they never had before, and can therefore take their share of the credit for her quick recovery.
So loyal are Kylie's fans, in fact, that after it was announced she was breaking up with her boyfriend
Olivier Martinez
he had to go into hiding owing to a wave of harassment by waiters, shop assistants, and the like; only a press conference by our girl managed to quell the loathing. As terrible as it is, this is the kind of thing I find hilariously funny; they take away our rights left and right and we let them, but one greasy haired Frenchman dumps our diva and suddenly it's every man to the ramparts.
Today is Kylie's 42nd birthday, and it's my sincerest hope that I'll still be here writing about her on her 84th, as she tours the world performing her typically spirited rendition of
Spinning Around
on a Zimmer Frame.
*
share on:
facebook