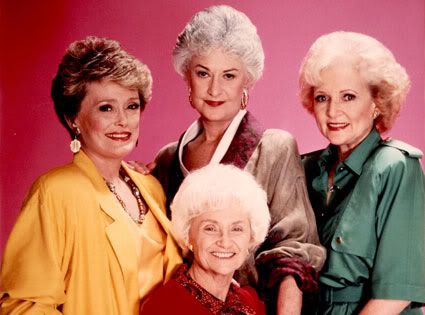 It was on this day in 1985 when television viewers first got a glimpse into the lives of four women sharing a house together in Miami... Over the next seven years the exploits of
Dorothy Zbornak
(
Bea Arthur
),
Blanche Devereaux
(
Rue McClanahan
),
Rose Nylund
(
Betty White
), and
Sophia Petrillo
(
Estelle Getty
) made it one of the most consistently popular shows on TV; in addition to strong performances by its four leads, the series also featured the talents of
Herb Edelman
as Dorothy's philandering ex-husband, Stan*.
The years have not diminished its viewers' enthusiasm, and it would be safe to say that
The Golden Girls
is today one of the most popular programs to have ever aired. Proof that the show's success was due to its entire ensemble came with the short run of a spin-off,
The Golden Palace
, which lasted only the 1992-3 season** without the anchor of Dorothy's commonsense. Two other spin-offs -
Empty Nest
and its spin-off
Nurses
- were more successful; most successful of all was the character of Sophia Petrillo, whom Getty portrayed in a total of five different series (the fifth was
Blossom
!)
*Edelman appeared in just 27 of the show's 180 episodes, but it was enough to make him its most prolific guest star; TV veteran Harold Gould
actually played two of Rose's boyfriends - Arnie Peterson in 1 episode and Miles Webber in 14.
** The Golden Palace - which co-starred Cheech Marin and Don Cheadle - had been greenlighted for a second season, but was cancelled the day before NBC announced its new season.
*
share on:
facebook