Thanks to
Joe.My.God
I've been grooving out to Verka Serduchka all week. I mean, "accordion techno"? What's not to love?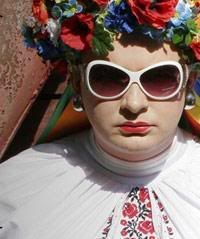 Ms. Serduchka (actually Andriy Danylko) performed at the Eurovision Song Contest in Helsinki recently, with a glitterball-inspired performance of
Dancing Lasha Tumbai
. Members of the Ukrainian Parliament have been hating on Serduchka for months now, calling his performances "grotesque and vulgar". As opposed to politics, I suppose, which is all kittens and roses. Don't get me started.
The song eventually came in second, but it came first in my heart, for what it's worth.
If all the notoriety gets to be too much for Danylko/Serduchka, he/she/they can always move to Canada, where a tubby Ukrainian can become famous. Just look at
Luba Goy
.
In case you missed it...
Campy, yes... But I like it too.
share on:
facebook