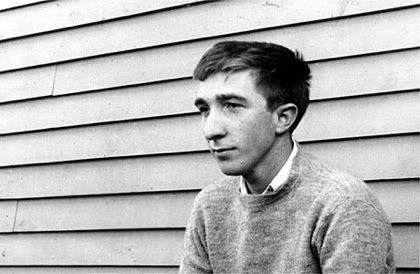 One of the most prolific and sensitive chroniclers of 20th Century suburban angst died, of lung cancer, on this day in 2009 at the age of 76; through the course of his series of books (
Rabbit, Run
,
Rabbit Redux
,
Rabbit Is Rich
,
Rabbit At Rest
, and
Rabbit Remembered
) John Updike followed the rise and fall of one such suburbanite,
Harry 'Rabbit' Angstrom
. The third and fourth of these earned him the
Pulitzer Prize
.
Yet for all that his repute was based on those five, Updike was very prolific author indeed, responsible for as many as a hundred books; excelling at the art of the short story, he'd contributed hundreds of them to
The New Yorker
since 1954, in addition to reviews and poems. Among his other famous works is
The Witches of Eastwick
, which was made into a
film
directed by
George Miller
in 1987, a 2000
stage musical
by
John Dempsey
and
Dana P. Rowe
, and twice over a television series - first in 2002 and again in 2009*.
For all his obsession with the motivations of adultery, Updike didn't describe the mechanics it well at all; in November 2008 he was given a lifetime achievement award by the UK's
Literary Review
, which annually sponsors the Bad Sex in Fiction Award - the only one this author truly covets (aside from the Nobel, of course).
*The shows, both entitled
Eastwick
, were ill-fated; the former - starring
Jason O'Mara
,
Marcia Cross
,
Kelly Rutherford
, and
Lori Loughlin
-
exists only as a pilot, and the latter - with
Paul Gross
,
Lindsay Price
,
Jaime Ray Newman
and
Rebecca Romijn
- aired 11 episodes before being cancelled (leaving 2 unaired in its initial US run).
*
share on:
facebook