Routinely described as the architect of the American
Civil Rights Movement
, Bayard Rustin is just as routinely denied his legacy today by the offspring of the Baptist ministers who were his lieutenants in this most noble undertaking because Rustin was openly - even unashamedly - gay at a time when he could still be jailed in many jurisdictions for being so...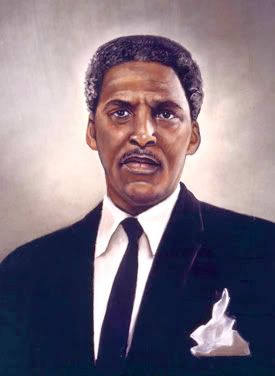 Born on this day in 1912, Rustin was raised by his maternal grandparents; both were active in their community - Rustin's grandmother was a
Quaker
, his grandfather belonged to the
A.M.E. Church
- as a boy he was taken by them to meetings of the local chapter of the
National Association for the Advancement of Colored People
(NAACP). Not only would he have heard
W.E.B. Du Bois
and
James Weldon Johnson
speak there, but these legendary civil rights pioneers were also frequent guests in his grandparents' home.
Originally enrolled at
Wilberforce University
, Rustin's academic career took on a peripatetic quality following his work on behalf of the
Scottsboro Nine
in 1936; the outrageous bigotry directed at nine black men unfairly imprisoned lit the fuse of the civil rights movement in America - not to mention lighting a fire under one of its most tireless proponents - a fuse which would eventually detonate a generation later in another corner of Alabama during the
Montgomery Bus Boycott
.
The idea for a march on Washington first occurred during World War II, when the military was still officially segregated; with his typical aplomb President
Franklin D. Roosevelt
deftly defused that situation before it got out of hand by implementing
Executive Order 8802
, following which Rustin went to California to advocate on behalf of interned Japanese-Americans. Imprisoned for violating the
Selective Service Act
, he continued to agitate on behalf on civil rights while incarcerated.
As Rustin's star rose, questions about his sexuality and past affiliation with Communism began troubling the civil rights leadership, notably Rep.
Adam Clayton Powell, Jr.
(D-NY), who forced Rustin's resignation from the
Southern Christian Leadership Conference
, which Rustin had founded with
Martin Luther King, Jr.
; undeterred, Rustin went to work on realizing his other dream. At the
March on Washington for Jobs and Freedom
in 1963 Dr. King made his famous
I Have a Dream
speech, but the dream had been Rustin's first, a fact too often overlooked today. In response to the March on Washington, President
Lyndon Baines Johnson
bullied the
Civil Rights Act (1964)
and the
National Voting Rights Act (1965)
through both houses of Congress.
Following King's assassination, Rustin eschewed the angry tactics (and blatant homophobia) of the
Black Power
movement by turning his attention to gay rights, stating: 'The barometer of where one is on human rights questions is no longer the black community, it's the gay community. Because it is the community which is most easily mistreated.' Bayard Rustin died of complications following surgery in August 1987; he was survived by Walter Naegle, his partner of 10 years.
The memoir of record is Jervis Anderson's
Bayard Rustin: Troubles I've Seen
; the PBS documentary
Brother Outsider: The Life of Bayard Rustin
by Nancy Kates and Bennett Singer - a clip of which can be seen
here
- draws heavily on this work. My thanks to
keithboykin.com
for this additional information.

*
share on:
facebook