As reported on the Pop Culture Institute on 26 January 2007...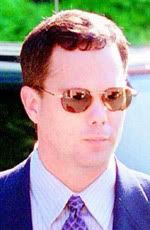 It looks like the murder of Bryan Charles Kocis, the owner of gay porn studio Cobra Video, may have been solved.
Two models employed by Kocis have been charged with "criminal homicide, conspiracy to commit criminal homicide, abuse of corpse, robbery, burglary, theft and two counts of arson" according to
Towleroad
. Kocis' body was found with a cut throat and multiple stab wounds inside his burning house.
Harlow Raymond Cuadra and Joseph Manuel Kerekes are being held at Virginia Beach Detention Center.
[
S O U R C E
]
Previously, on the Pop Culture Institute...
Cobra Video Owner Murdered
share on:
facebook