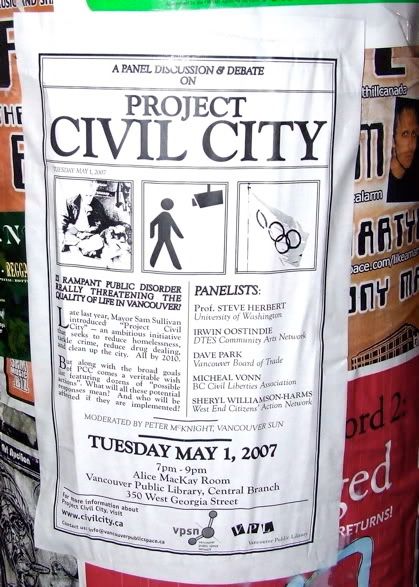 While I am generally on the side of civility (shut up, you bitches, I am too) I'm always a little worried when it looks like the right-wing is trying for a power grab. Getting to the root of social issues like homelessness is something I will always support, but bashing the homeless in the usual callous manner of the right, of course, I cannot do.
Also, the matter of manners cannot be addressed with by-laws, especially if they're not enforced.
It's too bad I won't be able to attend Project Civil City's meeting. I'd be interested in seeing who shows up and what gets discussed. Given that a member of the Board of Trade will be there, and that the impetus behind the entire project is likely the Vancouver Olympic Committee, I am instantly skeptical.
Maybe I can talk one of my more perceptive friends into attending, and submitting a report.
[To find out more, visit the
website
]
share on:
facebook