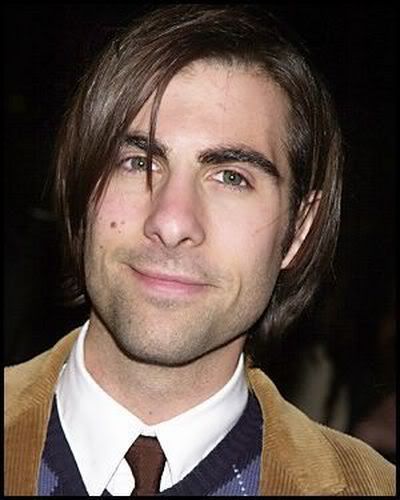 In Hollywood terms, Jason Schwartzman's is a very noble lineage indeed...
The son of pop culture icon and perennial
Trivial Pursuit (Silver Screen Edition)
question subject
Talia Shire
* and the late producer
Jack Schwartzman
, today's lucky Gratuitous Brunette** represents a very fertile branch of the
family tree
that is Coppola.
His onscreen achievements include star turns in the
1998 film
Rushmore
*** and
David O. Russell
's
I ♥ Huckabees
, a romantic lead as
Louis XVI
which is as hapless as it is accurate opposite
Kirsten Dunst
as the title character in
his cousin
's
Marie Antoinette
, and such ensemble works as
The Darjeeling Limited
and
Funny People
among others; currently he's the star of the
HBO
series
Bored to Death
where he plays an unlicensed detective advertising himself on
Craigslist
.
The rest of his time is taken up by music - as the drummer with
Coconut Records
and formerly of
Phantom Planet
- his new marriage (to designer Brady Cunningham), and whatever black magic he's practicing that helps him keep getting hotter and hotter... (Hint: it seems to involve veganism.)
*
Yo, Adrian!
Ring any bells? How about
If you touch my sister again, I'll kill you!
Rat-tat-tat-tat! No? Seriously, maybe you need to get out less...
**Sarcasm, natch! The Gratuitous Brunette is the world's singularly most underwhelming accolade - which is why it's typically accompanied by a strenuous sales pitch.
***In which he held his own opposite Bill Murray, whose career resurgence dates to this poem on celluloid by Wes Anderson - coincidentally (or not, depending on your outlook) the first film I ever bought a) on DVD, and b) from the Criterion Collection...
*
share on:
facebook