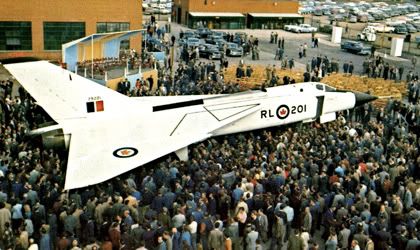 [

The fact that most of the Canadian engineers who worked on Canada's Avro Arrow supersonic jet fighter just happened to end up working for NASA on the American space program is no proof whatsoever that they were poached by the US government or that Canada's Conservative Prime Minister John Diefenbaker canceled the program on direct orders from the White House - effectively selling out Canada to the United States, which is at the core of that party's ideology. It's all just a huge coincidence, I'm sure.

]
1547
- England's King
Edward VI
was crowned at
Westminster Abbey
.
1792
- The
Postal Service Act
, establishing the
US Post Office
, was signed into law by President
George Washington
.
1798
-
Louis Alexandre Berthier
removed Pope
Pius VI
from power after declaring the
Roman Republic
.
1810
-
Andreas Hofer
, Tyrolean patriot and the leader of a rebellion against Napoleon's forces in Austria, was executed.
1835
- An earthquake destroyed the Chilean city of
Concepción
.
1864
- The
Battle of Olustee
- the largest battle fought in Florida during the American Civil War - pitted the Union's General
Truman Seymour
against Confederate General
Joseph Finegan
, whose victory was nevertheless the third bloodiest of the war.
1872
- New York's
Metropolitan Museum of Art
opened at 681 Fifth Avenue in New York City; its original collection was the personal gift of a railroad executive,
John Taylor Johnston
.
1909
- The
Futurist Manifesto
of
Filippo Tommaso Marinetti
was first published in the French journal
Le Figaro
; it promoted the cause of
Futurism
, a kind of short-sighted progressivism which called for everything from the past to be discarded in favour of the new and modern.
1913
- Work began on Australia's new Federal Capital at
Canberra
, when
King O'Malley
drove in the first survey spike.
1921
-
The Four Horsemen of the Apocalypse
, starring
Rudolph Valentino
, premiered.
1931
- The US Congress approved the construction of the
San Francisco - Oakland Bay Bridge
by the state of California.
1933
- Congress proposed the
Twenty-first Amendment
to the US Constitution that would ultimately end
Prohibition
in that country.
1935
-
Caroline Mikkelsen
became the first woman to set foot in Antarctica.
1943
- The
Parícutin
volcano began to form in Mexico.
1952
-
Emmett Ashford
became the first African-American umpire in organized baseball when he was authorized as a substitute umpire in the Southwestern International League; Ashford later worked in the
Pacific Coast League
and reached the pinnacle of his career when he officiated at the
1970 World Series
.
1959
- Canada's
Avro Arrow
program was controversially canceled by Prime Minister
John Diefenbaker
.
1962
- While aboard the
Mercury Program
's
Friendship 7
,
John Glenn
became the first American to orbit the earth, making three orbits in 4 hours and 55 minutes.
1991
- An enormous statue of Albanian dictator
Enver Hoxha
was pulled down in
Tirana
.
2003
- During a
Great White
concert in the Rhode Island city of West Warwick, a pyrotechnics display set the club
ablaze
- killing 100 and injuring over 300 others.
*
share on:
facebook