The secret to sitcom success is in the ensemble, which is what makes
The Good Life
(better known as
Good Neighbors
in North America) the classic that it is. Stuffy
Jerry
, self-righteous
Tom
, snobbish
Margo
, and sweet
Barbara
appeared together, amazingly enough, in only 30 episodes. Yet they are thirty very rich episodes indeed, and to
watch them
in their entirety on DVD (as I've recently done) is to feel fed in some way as well as entertained...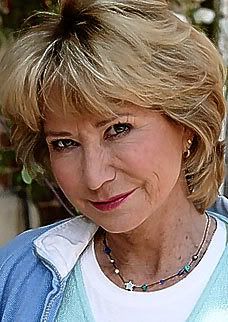 Though she performed Shakespeare throughout India with her family as a child (later the subject of
Merchant Ivory
's first major film
Shakespeare Wallah
, written by
Ruth Prawer Jhabvala
), and despite playing herself in that film, Felicity Kendal - born on this day in 1946 - struggled to find a footing in her career.
The Good Life
made both a star and a sex symbol out of her; she was known as 'the thinking man's crumpet' in the 1970s, and throughout the 1980s and 90s she appeared in the
West End
's glittering London in the plays of
Tom Stoppard
.
Having completed
Rosemary & Thyme
(which finished its own three-year run in 2007), Kendal next appeared in an episode for an obscure little show nobody's ever heard of called
Doctor Who
entitled
The Unicorn and the Wasp
opposite
David Tennant
and
Catherine Tate
, and then spent her springtime on the
West End
stage, appearing in
Noel Coward
's play
The Vortex
, which wrapped in June 2008. She then undertook roles in the plays
The Last Cigarette
and
Mrs Warren's Profession
before switching it up by agreeing to appear in
Strictly Come Dancing*.
*As part of the show's new series, which began 14 days ago.
*
share on:
facebook