On the Queen's last full day in the US, she visited NASA's Goddard Space Flight Center in Maryland.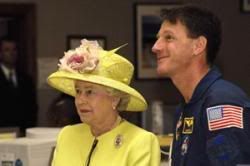 While there Her Majesty listened to three astronauts describing their duties onboard the International Space Station.
After leaving Goddard the Queen is expected to lay a wreath at the WWII memorial on the National Mall before returning the favour by hosting the President and First Lady to a banquet at the British Embassy.
The Queen and Prince Philip, Duke of Edinburgh, return to London May 8th.
share on:
facebook