After what was a pretty low-key Pride Day all told, our little group was looking for a place that would pick up more than our spirits. Mr. Gagne, Mr. Davey and I met up with Mr. Barr, who'd made a special trip down for our friend's birthday party that evening, and that picked up our spirits some more, but being the reckless thrill-seekers we are, we wanted more.
Where, we wondered, could you go in Seattle to get really high?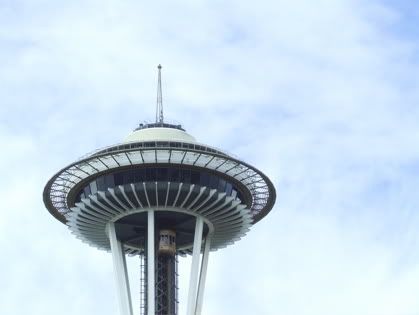 The Space Needle of course! Why? What did you think I meant?
41 seconds it takes, from the ground to the deck. 41 exhilarating, butt-clenching, ultimately elevating seconds.
While up there I got to revisit all my favourite old haunts from Saturday, but was given an entirely new perspective on them. Let me tell you, 600 feet in the air is a whole new perspective indeed.
Plus, for people who don't like the Space Needle - aka jerks - it's one of the few places in the city where you can't see it.
So we wandered around up there for awhile, until the enjoyable air conditioning got to be more oppressive than the humidity we'd left on the ground. I was given the rare opportunity to pay $1.37 for a small apple, which is the sort of thrill I can readily do without.
Then it was 41 seconds back to the ground, and off on our next adventure...
share on:
facebook