For rescuing the work and reputation of
Zora Neale Hurston
from near-oblivion - which she did with a 1975 article in
Ms.
magazine - Alice Walker deserves the utmost kudos; then again, resurrecting the stories of people who've in their own way made history only to then be disregarded by it has kind of been her life's work...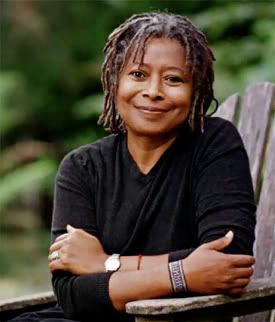 So while the heroes and heroines of her works - including
The Third Life of Grange Copeland
,
The Temple of My Familiar
, and
The Color Purple
- may be fictional, they and their lives as described by her are as grounded in truth as those in any history book.
Walker's own life has proven to be a microcosm of the troubled lives about which she writes; when she was eight years old she was accidentally shot by her brother and subsequently lost the sight in her right eye. She married civil rights lawyer Mel Leventhal in March 1967 and was later forced to leave her native Georgia due to persistent threats by the Ku Klux Klan. Although her daughter
Rebecca
was born in 1969, Walker and Leventhal divorced in 1977; mother and daughter have since become estranged over the younger woman's insistence that her mother is 'dispassionate'.
Yet anyone who's read the works of Alice Walker will tell you precisely where Alice Walker's passion resides...
*
share on:
facebook