Take that Obama! And... Those guys who are always hanging around behind Obama...
NYAH!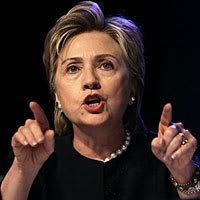 Despite the tenterhooks upon which I sat during the evening of the
Michigan Primary
(which nobody bothered to explain to me beforehand wasn't a real primary at all - thanks guys!)
Nevada
was
a real primary, although like Iowa they called it a caucus. Clinton managed to triumph by six points, earning 51% of the votes to Obama's 45%.
Next it's on the
South Carolina
, where race is likely to be a factor, and it remains to be seen if the recent
flap
over the issue will remain to haunt the efforts of the would-be First Lady President. They are set to take place January 26th.
On the other side of the aisle, Mitt Romney didn't campaign in
South Carolina
in favour of
Nevada
, where he handily won; this cleared the way for John McCain's narrow win over Huckabee in the first Southern primary, which must have been a sweet victory, as it was here where Karl Rove's
dirty lies
cost McCain the state in favour of George W. Bush in 2000.
[
Read more...
]
share on:
facebook