In addition to being one of my favourite actresses, Stockard Channing has the dubious honour of being
Pop Culture Institute
's first Happy Birthday post, which I first made four long years ago today; I'm happy to see its return today because a) it means I've been doing this quite steadily now for four years (yay!), b) it's Stockard Channing's birthday again (double yay!), and c) because I only have to rewrite it, not start from scratch (triple, possibly quadruple, even quintuple yay!).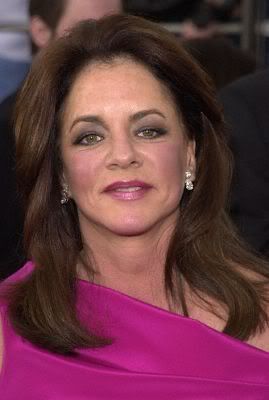 To me, I guess, she'll always be
Betty Rizzo
, the tough-but-tender girl thug in
Grease
, who manages to thrill us with
Look At Me, I'm Sandra Dee
and break our hearts with
There Are Worse Things I Could Do
in the space of one hundred and ten camp-filled Fifties-fied minutes.
During her tenure as First Lady
Abigail Bartlet
in the alternate universe of
Aaron Sorkin
's
The West Wing
she helped to sustain Democrats during the recent Bush Fiasc- er, Administration, making her performance not only powerful thespianism but an act of mercy as well.
Shortly after I first made this post, Mr. Gagne left a comment citing her performance in the
1995 film
To Wong Foo, Thanks for Everything, Julie Newmar
as being his favourite; and of course, she was also a stand-out in the
1993 film
Six Degrees of Separation
, which was the gist of my reply to him as you can see for yourself in the Comments section below.
*
share on:
facebook