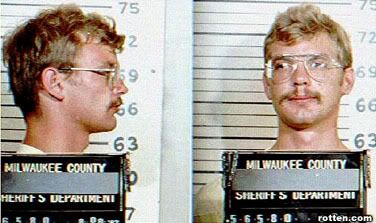 On this day in 1992 serial killer
Jeffrey Dahmer
was jailed for life - actually 957 years or 15 concurrent life sentences - in the US for murdering and dismembering 15 young men and boys. He was sent to
Columbia Correctional Institution
where in
November 1994
he was severely beaten alongside fellow inmate
Jesse Anderson
by
Christopher Scarver
; Dahmer died en route to hospital, while Anderson died two days later.
If you can stand the passive-agressively homophobic tone,
here's the story
told from a slightly more livid perspective; as usual, good old
Wikipedia
has a more reasonable approach.
Obviously, in this man we see the end result of growing up among religious fundamentalists. He got no help when he mutilated animals, he got prayer. When he felt himself beginning to desire other boys he got condemnation rather than the unconditional love promised by Jesus. Following his incarceration he became a born-again Christian rather than expressing remorse. It's easy to judge and despise and condemn such a person; why not do the challenging thing for once, and try to understand him?
*
share on:
facebook