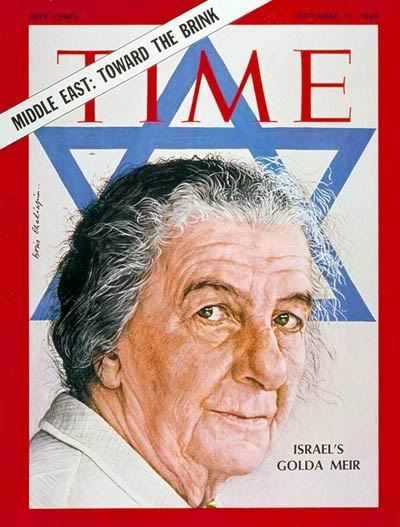 On this day in 1969 Golda Meir was
elected
Israel's first female prime minister following the death of
Levi Eshkol
, having previously served that country as Foreign Minister, Labour Minister, and ambassador to Moscow. Known as the Iron Lady a full decade before Margaret Thatcher,
David Ben-Gurion
referred to Meir as 'the only man in the Cabinet'.
Meir spent nearly five years in office despite suffering from lymphoma, during which time she ended the
War of Attrition
; she also ordered the
Mossad
to assassinate those responsible for the
Munich massacre
at the
1972 Summer Olympics
(known as
Operation Wrath of God
), and steered Israel through the
Yom Kippur War
.
She was succeeded by
Yitzhak Rabin
in June 1974 and died in December 1978. Meir was famously portrayed by
Ingrid Bergman
in the
TV movie
A Woman Called Golda
(1982), and more recently by
Lynn Cohen
in
Steven Spielberg
's
film
Munich.

*
share on:
facebook