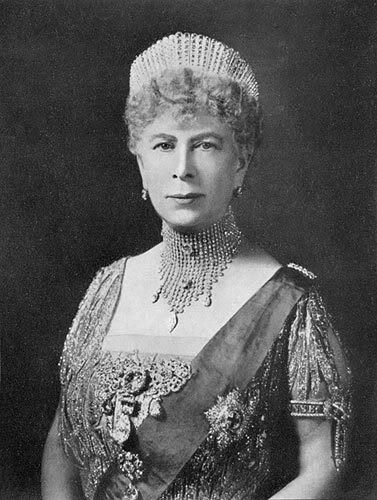 Her Majesty
Queen Mary
- consort to
George V
and the current Queen's grandmother - died in her sleep at
Marlborough House
after a lengthy (and secret) battle with lung cancer on this day in 1953, just ten weeks before the much-anticipated coronation of the new
Elizabeth II
; one of her last acts was to insist that her death not be allowed to postpone the ceremony, and indeed it wasn't. Even as London was being scrubbed down and hung with bunting, mourners were filing past her coffin in
Westminster Hall
or else lining the route along which she was taken to be buried next to her husband in
St. George's Chapel, Windsor
.
Initially she'd been brought to England in 1891 as a prospective match for Queen Victoria's eldest grandson - and thus the heir presumptive -
Prince Albert Victor, Duke of Clarence
; he promptly died, six weeks after their engagement was announced, and she ended up marrying the Duke of York instead, thanks to a bit of matrimonial switcheroo the Royal Family has used on occasion before although - as with the case of
Catherine of Aragon
- usually with tragic results for the bride. By all accounts, though, theirs was a love match; George V famously took no mistresses. She became Princess of Wales following the accession of her father-in-law
Edward VII
in
January 1901
, and Queen upon his death in May 1910.
In character and bearing, Queen Mary was a Victorian; even as the first half of the 20th Century wrought immense changes to the United Kingdom - and not a few to her own family as well - hers was the sort of stalwart presence currently represented by her granddaughter. Her diligence restored to the once great
Royal Collection
the possessions of the Crown - which rightly belong to the people, and are held in trust by the sovereign - that had over the past century been pilfered and stashed throughout the Nation's noblest homes; she was also inordinately fond of jewellery, and the precious stones she was able to secure in her lifetime are considered every bit as prestigious (not to mention priceless) as the
Crown Jewels
themselves. Her duty compelled her to continue with public life, despite having outlived three of her six children, even as it compelled her to shun one of the surviving ones -
The Duke of Windsor
- for the damage she felt his
abdication
had caused to crown and country.
The biography of record remains Anne Edwards' exceptional
Matriarch: Queen Mary and the House of Windsor
, first published in 1984.
*
share on:
facebook