On this day in 1896 the first modern-day Olympic Games - more properly known as the
Games of the I Olympiad
- opened at
Panathinaiko Stadium
in Athens, Greece; they were the first Olympics organized by the
International Olympic Committee
, which was itself founded in Paris in 1894 by
Pierre de Coubertin
, who in turn had been inspired by Dr.
William Penny Brookes
, organizer of an Olympic Games at the
Crystal Palace
in London in 1866, who adopted many of the ideas of
Evangelis Zappas
, an early advocate for the re-creation of the ancient athletic spectacle, who sponsored an event called the Olympic Games in Athens as early as 1859.
Got that?
In fact, tracking the provenance of the modern Olympics could almost be an Olympic event in itself...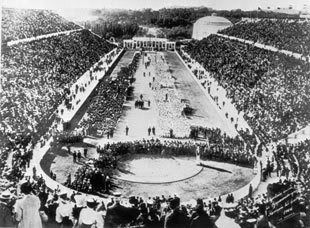 The Games were opened by Greece's King
George I
, who attended with Queen
Olga
and their sons, including the Crown Prince, the future
Constantine I
. Over the next nine days the King lobbied hard to get the games permanently set in Greece, but the decision was made to move them around, making them the traveling circus of international infrastructure investment they are today.
Although the number of participants was small by modern standards, it was the largest athletic event that had ever been held in the world to date;
James Connolly
, an American, won the first gold medal, although German gymnast
Carl Schuhmann
was the big winner (with 4), and
Spiridon Louis
became a hero in his native Greece for winning the first marathon.
Organization of the first Olympics was a bit slipshod, especially given their later zeal for accurate statistics; for one thing, the winners of individual events were given silver medals, and the second place finisher medals of copper; gold, silver, and bronze medals were awarded retroactively. There is also some debate over how many countries participated. For instance Australia - not yet a Dominion within the British Empire - fielded its own team; Austria, still in possession of Hungary, sent a team from each country. A Swiss athlete named
Charles Champaud
living in Bulgaria may have competed in his heart for his adopted country, but is credited as having competed for the land of his birth. A Chilean athlete named
Luis Subercaseaux
seems to have competed, yet didn't manage to get himself included in the records that were kept. Sweden and Denmark both sent teams, but neither managed to win anything.
The Games were closed - again by the Greek King - on April 15th.
*
share on:
facebook