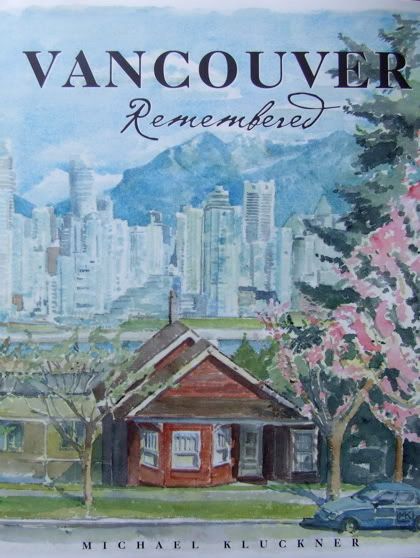 May I first offer my kudos to Whitecap Books for producing this handsome volume, which is destined to take its place on an ever-widening shelf offering tribute to our fair city. As with all products I review here, I paid for this book myself; it came to $53 with tax at Chapter's on Broadway.
Within, Kluckner's glowing watercolours are interspersed with file photos, editorial cartoons, and the sort of ephemera (postcards, menus, maps) that are essential in helping a place to create its own mythology. Since Vancouver's future as a world city now seems inevitable the time, it seems, has come to begin looking back, to the past that created it.
"Vancouver Remembered" essentially (though not slavishly) covers the period 1945-1986, although many of the paintings have a more recent provenance. Most of my firsthand knowledge of the city is from the era 1986 to the present, and I only began photographing the city in earnest in 2006, which makes this volume an especially valuable resource for me. It fills in the gaps in my own knowledge from the period just before I came to know it for myself.
Since its founding, the basic tension inherent in Vancouver has been between its role as a port and its reality as a garden. In my earliest memories of the place it is always half green and half grey. These days, of course, the grey is frowned upon; after all, we get enough of that from the sky. Yet now even the green is threatened, as much by weather as by commerce.
My earliest memories of Vancouver are of a quaint, tumbledown city. Development has certainly aided in the tumbling, as much as the incessant rain and landlord apathy. Currently the Gastown/Strathcona, Southeast False Creek/Mount Pleasant and Grandview neighbourhoods are most imperilled, and I'll be doing my part to preserve them, even if only in photographs.
Vancouver turns 125 in 2011. Seeing as Manhattan was founded in 1624, and there's precious little of that city from 1749 that remains today (or did, I daresay, even then), I'd say Vancouver has done an admirable job of conservation, especially since efforts to that end never began in earnest here until the 1980s. Still, developers have been ravenous.
In the past year, I have taken many photos of places now forever lost, which makes "Vancouver Remembered II" a virtual certainty twenty years hence.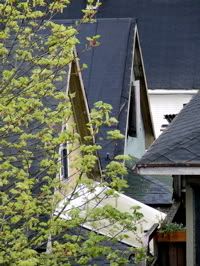 [
This pair of houses at W. 7th and Fir were painted by Michael Kluckner (they appear on page 153 of "Vancouver Remembered") and photographed by me at this time last year; they've since been torn down.
]
share on:
facebook