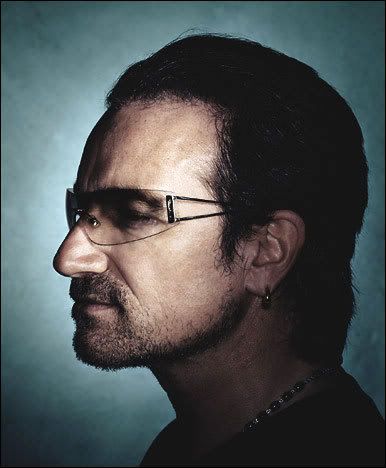 Like when a beautiful person writes a dating book, or a fatso campaigns to eliminate hunger*, whenever a jillionaire starts preaching about eliminating poverty, my finely-tuned bullshit detector starts to twitch. I mean, it's all well and good to blather on to governments about foreign aid when you're sitting on a pile of lucre yourself, especially when even a tiny portion of it could go towards starting thousands of micro-banks in the developing world.
Or maybe I'm just an old cynic.
Celebrities are great catalysts, and Bono in particular seems to have nonpartisan appeal, as comfortable talking to President Bush and the Pope as he is talking with regular humans. The thing about humanitarian efforts, unfortunately, is that they often don't show results for years. At least in this way, Bono seems to be in it for the long haul.
Plus, he's had the same mates his whole life and been married to the same woman (
Ali Hewson
) for nearly a quarter of a century. He's never had a tabloid scandal that my long memory can recall, nor does he splash out on bling. In this case, his actions more than his words point to his sincerity. I suspect he's not a dilettante, then, but an actual caring person. (Even if he refuses to pay tax in Ireland and can't count in Spanish...)
There you have it: what amounts to a ringing endorsement from the
Pop Culture Institute
.
*Yes I mean you, Sally Struthers...


*
share on:
facebook