A poll was held in Canada some years back, asking historians and academics whom they felt was the most important Canadian...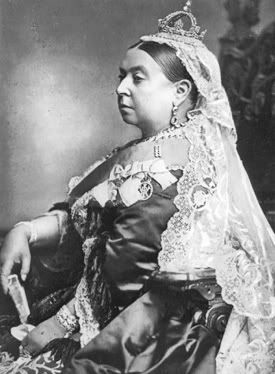 Almost unanimously they selected
Queen Victoria
who, as Queen of Canada, made numerous important decisions with regards to this fledgling corner of her Empire in its earliest days. For instance, she placed the capital at
Ottawa
, on the border between Upper (English) and Lower (French) Canada rather than in the more obvious locations of Toronto or Montreal or even Kingston.
Regina
, the capital of Saskatchewan, and
Victoria
, the capital of British Columbia, were both named for her. In addition, her birth is still commemorated in Canada every
Victoria Day
.
In fact, more
places
, facilities, and geographical features in Canada are named for her than any other single person - more than 300, in fact - probably because she was queen when, in 1867, Canada became a Dominion, an important step on the colony's journey to full nationhood. Her daughter
Princess Louise
* and son-in-law the
Marquess of Lorne
even served the country as the viceregal couple from 1878 until 1883.
Other than that, Queen Victoria was known to take an interest in aboriginal welfare; in return her First Nations wards honoured her with a reverence bordering on worship. Since treaties between European settlers and the First Nations were signed in her name, when they were breached (as often they were) she was not afraid of expressing her displeasure; her attitude towards the country's original inhabitants is one which has since been adopted by her successors as well.
Born on this day in 1819 to
Prince Edward Augustus, Duke of Kent
and
Princess Victoria of Saxe-Coburg-Saalfeld
, Victoria was sovereign longer than any other (of the forty since 1066) and for more of her life, ascending to the throne following the death of her uncle
William IV
less than a month after her 18th birthday and reigning until
January 1901
; until December 2007 she was also the oldest person ever to serve as monarch (a title recently claimed by her great-great granddaughter
Elizabeth II
).
*The Canadian province of Alberta was named after the royal-born marchioness - later the Duchess of Argyll, whose full name was Louise Caroline Alberta - as was one of its loveliest and most famous geographic features,
Lake Louise
.
*
share on:
facebook