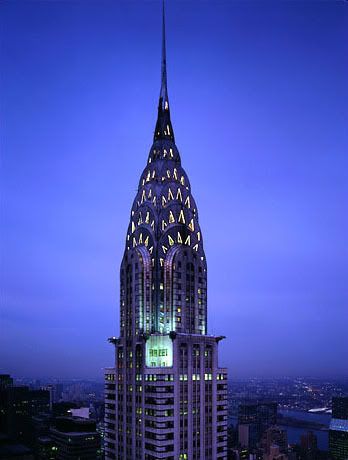 On this day in 1930 construction was completed on the Chrysler Building, the building having been officially opened the day before. Designed by
William Van Alen
, it wasn't as universally hailed upon its opening as it is now.
The New Yorker
's famed architectural grumblepot
Lewis Mumford
sniffed at its 'inane romanticism', 'meaningless voluptuousness', and 'void symbolism'. Indeed, the building is a triumphant celebration of the automobile, and even casts its shadow on
Grand Central Terminal
, itself the crowning achievement of the age of rail.
The Chrysler Building - located at the corner of 42nd Street and Lexington Avenue - has the rare distinction of having had no deaths occur as a result of its construction. It was the world's tallest building for four weeks short of a year; the
Empire State Building
surpassed it on May 1st, 1931. It was, however, the first man-made structure to stand over 1000 feet tall, and remains an elegant
Art Deco
beacon in the Manhattan skyline.
*
share on:
facebook