On this day in 2004
Felipe
,
Prince of Asturias
and heir to the throne of Spain, wed
Letizia Ortiz Rocasolano
, a television journalist formerly employed by CNN.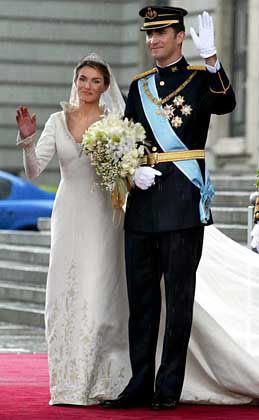 Their marriage was solemnised at the
Catedral Santa María la Real de la Almudena
in Madrid, the first royal wedding ever held there and the first royal wedding in the Spanish capital for nearly a century. The
guest list
included the Kings of Sweden, Norway, and Belgium, Queens of Jordan, Denmark and Holland, crown princes of the UK and Japan, as well as Spanish celebrities and politicians.
Her Royal Highness will be the first commoner ever to become Queen of Spain; she is also a divorcee, having been previously married to Alonso Guerrero (from whom she was divorced in 2002). Her popularity, especially amongst the young, seems to derive from her modernity; that or the fact that, at the time her engagement was announced, she was host of
Telediario
, the most watched newscast in Spain.
Their Royal Highnesses have since had two children:
Infanta Leonor
(born in 31 October 2005), and
Infanta Sofía
(born 29 April 2007). While Spain has in the past had Queens regnant, the country does not currently recognize female primogeniture; given the tenor of the times, though, all of that may change...
*
share on:
facebook