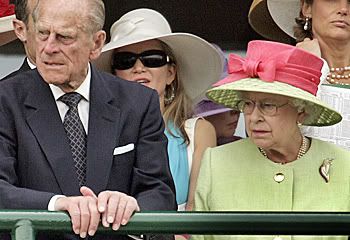 The Queen fulfilled her lifelong dream of watching the Kentucky Derby today, accompanied by the Duke of Edinburgh. "Queen Elizabeth is certainly the most prestigious guest we've entertained in the modern-day history of the Kentucky Derby," track president Steve Sexton said. The race was won by Street Sense, who came from next-to-last place to pass Hard Spun by two and a half lengths and claim a purse worth more than $2 million US.
Her Majesty and His Royal Highness will spend the next two days near Lexington, Kentucky, at the farm of William Farish; in addition to being a former US ambassador to the Court of St. James, Mr. Farish is a horse breeder like the Queen.
On Monday the royal couple will visit the White House, where the first white-tie event of the current administration will be held in their honour.
[
S O U R C E
]
share on:
facebook