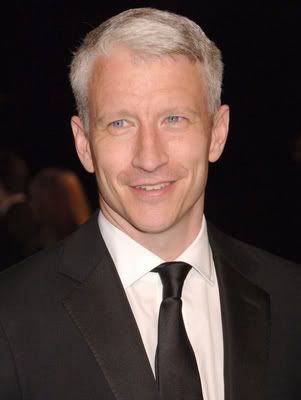 I'm the first to admit that if Anderson Cooper looked like
Harry Knowles
I wouldn't give him the time of day; visible from space whether on satellite from CNN Headquarters in New York or simply sunning himself on the beach at Montauk, the original silver fox will be blowing out 43 very lucky candles tonight.

Gee, I hope he's up to it - that's an awful lot of blowing.
A n y w a y... Few people realize that the host of
Anderson Cooper 360°
- who was born on this day in 1967 - was born with a silver spoon in his mouth; the younger son of prominent aesthete
Wyatt Emory Cooper
and serial monogamist* and perennial tabloid fodder
Gloria Vanderbilt
, Cooper's exposure in the media began early: as a baby he was photographed by
Diane Arbus
for
Harper's Bazaar
, and he made his debut on
The Tonight Show
in September 1970, appearing with his mother at tha age of only 3.
His father died of a heart condition in January 1978, and his older brother Carter Vanderbilt Cooper famously committed suicide in July 1988 by jumping from the 14th-storey terrace of his mother's Manhattan penthouse apartment. It was that event, more than any other, which Anderson Cooper credits with sparking his interest in journalism...
*Cooper was her fourth and last husband; she has been romantically linked to numerous others.
share on:
facebook