1969. The same hot summer I was
in utero
, an idea that would literally mean the world to me was hatching... That's the summer the patrons of a seedy bar called the Stonewall Inn in New York's
Greenwich Village
decided they'd had enough of paying protection money to the police who routinely harassed them anyway. Starting with the funeral of
Judy Garland
the previous day - shortly after 1 PM on this day in 1969 and continuing over several subsequent nights - riots led by activists, drag queens, trannies and various disparate gender outlaws gave birth to a vibrant and diverse minority community.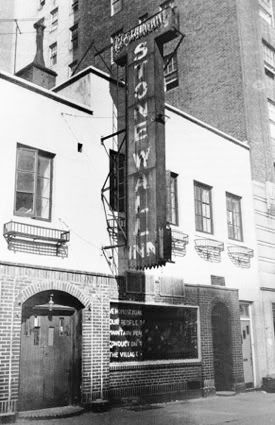 The
Stonewall Riots
not only galvanized a community that scarcely knew it existed before - which is one of the upsides of oppression - it gave that fledgling community its all-important creation myth. While gay communities had existed previously (after a fashion) and both political movements and acts of civil disobedience had been used to back them up prior to 1969, there was something about this particular expression of unity which helped it - and its message - to endure, not just in the United States but around the world. For me,
Pride Day
has always stood for unity, largely due to the unity shown by the rioters; I only wish every day in the gay community could be just like it...
For many years the name Stonewall and the story of its riots was well-known within the gay community - passed down by word of mouth and in gay media - but virtually unknown outside of it; the 1990s brought a flood of new scholarship and entertainment regarding both the event and its place in the rich tapestry of American life.
Martin Duberman
's book
Stonewall
came first, in 1993, and features solid research tinged with personal insights for a very bittersweet read; a movie entitled
Stonewall
had great success on the festival circuit in 1996. In June 1999 the Stonewall Inn was placed on the
National Register of Historic Places
by US President
Bill Clinton
(likely as payback for his having sold us out with
DADT
and
DoMA
); the following February it was declared a
National Historic Landmark
.
*
share on:
facebook