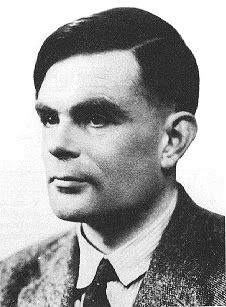 If there's a lesson to be learned from the life of Alan Turing (and I believe there are many) it's that throughout history, nothing matters more to those in charge than the persecution of homosexuals. This is still true in the United States, where in recent years dozens of Arab language specialists have been thrown out of the military and the State Department for being gay; the momentary War on Terror, it seems, has been trumped by the ongoing War on Gays.
Turing - born on this day in 1912 - is considered the father of computer science, and was one of the team at
Bletchley Park
responsible for breaking the
Enigma machine
's codes during World War II; he was arrested for homosexuality in 1952, which led to his suicide by poisoning in 1954. Although he worried about the effect that homophobia would have on his legacy, it appears, in retrospect, to have been minimal. In fact, in recent years a
memorial
to him has been unveiled in Manchester's
Sackville Park
as well as another by sculptor
Stephen Kettle
at his old stomping grounds, Bletchley Park; additionally
English Heritage
has placed a
Blue Plaque
at two of his former London homes.
In the excellent 1996 BBC
TV-movie
Breaking the Code
Turing was portrayed by
Derek Jacobi
.
*
share on:
facebook