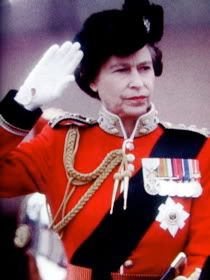 On this day in 1981 17-year-old
Marcus Sarjeant
shot at Queen
Elizabeth II
as she rode
Burmese
* during the annual
Trooping the Colour
ceremony in London. The Queen never lost her composure, and easily quieted her equally reliable mount.
The would-be assassin was readily apprehended, at which time it was revealed he had been shooting blanks; he was later sentenced to five years in prison, of which he served three, and was released in 1984.
'I did it because I wanted to be famous,' he said, apparently in his own defense.
*A gift to Her Majesty from the Royal Canadian Mounted Police in 1969, Burmese was bred at the RCMP Stud in Regina - home of the famed Musical Ride. Since 2005 the Queen can be seen riding Burmese in perpetuity; a statue in front of the Saskatchewan Legislature commemorates their special friendship. Burmese was retired in 1986, and died in 1990.
*
share on:
facebook